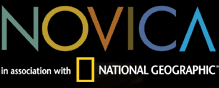 Introducing NOVICA! Novica.com has beautiful unique gifts made by artisans around the world and they work with National Geographic to help these artists express their talents and provide access to the world market. Doing so helps them to earn money and care for their families in ways that would not be possible without a wider audience.
Such lovely things like this beautiful hand carved walnut jewelry box:
Yes, hand carved! Wow. I suddenly wish I had more jewelry to have a box like this!
One of the great things about this site is that every artist has a story, and you can read about them on the item page. Or even go to their profile, so it's a personal touch so you know who you are supporting, and some of their life. Isn't that better than buying something just bought in a factory?
I spent hours looking at this site, there are so many things I love and wish I could have right this second. Yes. This VERY second. 😛
Because not only do they have some super beautiful clothes and other unique gifts, they also have some absolutely beautiful silver jewelry. Their selection of earrings in Amethyst, Garnet and Amber had me wishing I was more comfortable with dangle type earrings being in my ears.
I positively LOVE these earrings called 'Make A Wish', but then again I like a lot of the earrings there. Even if I basically never wear much more than just my engagement ring currently.
It was so hard to decide what I was going to do. Was I going to use the $100 offered just on myself? Or would I take the second option, $50 for me and $50 for my readers?
Actually, I went for the second option.
Why? Because I love doing giveaways for you guys! YAY Giveaways!
So what did I decide to get?
I absolutely fell in love with this for Kat and Sis, who are really into Chess… perhaps they can teach me how not to suck at it. But at least they know how to play, as does Aussie! So, it will get some use and all that!
This is so beautiful, carved and polish and is indeed to perfection. The girls have NO idea I am getting them this, so they are going to be excited I'm sure! This is much better than the chess mat and plastic pieces that they were hoping they'd win from the fundraiser from the school Chess class. >.>
*ahem* Nope, not picky at all I'm not.
Oh wait… yes I am. 😛
Novica's website is designed beautifully as well. Not too cluttered, lovely color, great selection of items and a variety of different ways to find what you want. You can browse by a general price range, by country,by type (jewelry, home, clothing, etc).
________________
 NOVICA also has a program for those who want to have their own home based business but don't want to be just another Avon/Mary Kay/Make up/Whatever Else type rep. Yes! NOVICA Live!  Allows you to make money while helping out artisans from around the world at the same time. Sell products, get rewarded, and help someone else. Isn't that awesome?
For every NOVICA Live party held, the host can designate an artisan to receive a microcredit loan which is paid for by NOVICA Live!
Microcredit is an amazingly awesome way to empower creative entrepreneurs with the means to grow their business into a sustainable income. Novica's Artisan Loan program charges artisans 0% interest on their loans, providing them with much needed credit at no additional cost. This is something that truly helps these Artisans!
Interested in becoming a Consultant for NOVICA Live! or Hosting a party? Just Contact them Here and under where they ask how you heard about NOVICA Live select "From a Blogger" and put in www.ohayookasan.com
_____________
Now! Onto the Giveaway!!
I have a $50 NOVICA.com Giftcard to giveaway to ONE lucky person! Go ahead, go to the site and drool over the pretties, you know you wanna! 😉
disclaimer: I was sent a giftcard in to use on Novica.com in order to spread the word about their website and other items. I was offered this giftcard, and the gift card for my fans in exchange. Still, I truly do love the site and am happy to be able to spread the word!