I love being able to try out new things, and let the kids get to enjoy products I am not sure we would have ever heard of or tried without me having this awesome blogging job. 😉
This time around, I had Kat enjoy the product in question as I try and make sure to give all the kids a fair turn doing things like this. Everyone gets to try something or another. Var the Swiggies, all of the kids with the Zevia. Fairness and all that. 😛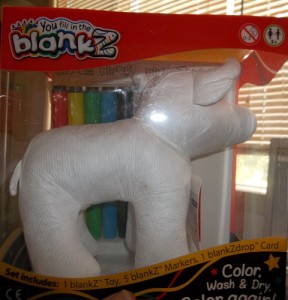 Kat received the "No Bully" BlankZ. Yes, a little blank Bull! How cute!
She ended up naming him Smiley. I'm not really sure why, but it's cute so we're just going to go with it okay? 😉
The feeling of the fabric for Smiley is different than I expected. A part of me was expecting something just like one of those "Doodle Bears" that were so popular and the kids really had to have them (Kat and Sis) so many years ago… just to never really play with them. >.>
But it's not the same fabric at all, not that it's a bad thing! Also, because Smiley the No Bully BlankZ came completely blank it meant that she had a lot more fun getting to do whatever she wanted without anything in the way. No designs, no colors, nothing really inhibited her imagination with Smiley here.
All BlankZ toys come with five markers (Red, Yellow, Green, Blue and Black), a blank backdrop (that isn't washable, but you can use both sides which is nice!), and of course your BlankZ toy. This is Smiley shortly after he was removed from the packaging.
Her first go of coloring Smiley she also colored a quick background in. I don't blame her for getting a little impatient with the sky, large areas and marker can be rather daunting. Still the background is cute considering she gave him his own little bit of land with flowers and a fence to keep him safe.
Smiley is a very happy little bull, a RAINBOW striped Bull none the less. Can you tell she likes rainbows? 😛 She also drew him a collar with the bell around his neck. Adorable!
Not even a full day later she wanted to go ahead and wash him so she could recolor. Though originally I threw Smiley in with a small load of laundry, we found that he needed to be washed again just by himself on a quick wash.
After that he was absolutely great to go and color after a quick dry on low in the dryer! No, you cannot color on a wet one… well I guess you could but I'm not really sure why you'd want to do that. It'd make the colors spread and wet stuffies aren't exactly my favorite thing to touch. Blech.
The second time she went with a far more natural touch to him. Though of course she kept the smiley face, because well.. Smiley needs to have a smile. Right?
Kat really loves her BlankZ 'No Bully'! To the extent that she even sleeps with him at night now.  He's been washed again since I took pictures, but I didn't take more of them I'm sorry to say.
Interested in knowing more about BlankZ and seeing what other animals they have?
You can go to the BlankZ website and they can be found on Facebook as well as Twitter.
One of the awesome things about the BlankZ website is that if you send them a picture of what you've created on your BlankZ they will put it in the "Hall of BlankZ"
Look at this fantastic Spider-man Bare Blankz!
I am looking forward to surprising Sis, Var and Lisi with their own BlankZ for Christmas! Considering Kat's reaction I know they'll love them too!
I received this product through Karma Media in exchange for my honest review.
Want to see other BlankZ animal reviews from other members of Karma Media? Just check out the Linky List below!!