I never did stop making these. But I did move on to doing Resin things part time along with doing nail art.
I am trying to come up with designs to go ahead and sell if I can get enough people interested, as well as just having pretty nails for myself. 😉
I'll start with my 4th of July set. This is with the flash and the stars are white, but with a shimmer so they turn colors in brighter light as you can see. I went with blue thumbs with stars, with red and white for the rest of the nails. Going for a stars and strips kind of design, with a little bit of flair of course!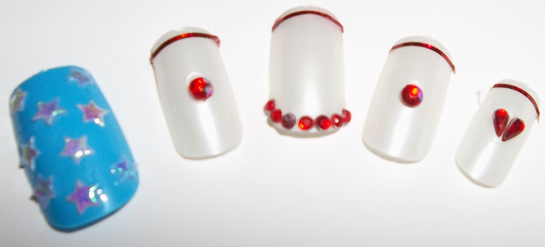 This is the same design but without the flash, the nails are supposed to be a more pearl white, but the lighting is awful so it's hard to tell. Still, you can see the stars better this way.
These were an experiment with doing a color going at an angle down one side. The nails are originally just the pink basic ones and from there I did the black, let it dry over night and did the jewels the next day. Two fingers have hearts in the middle in case the picture is to small to see them.

Using the same basic pink nails, I applied a clear polish with lots of glitter. Two coats because I wanted them SUPER glittery. Then I went for the super girly feel. Bows, hearts, pearls, and more pink! I love these ones and since I wanted to show off the thumb a bit better, took this picture:

I wanted to go for the shooting star/gem type of feel with a spray to the side like that. I love how they turned out!
That's all for this update as far as nails go though. But what do you think? I want to get some black nails to work on next, as well as some that are silver and gold! I think I could have a lot of fun with them!