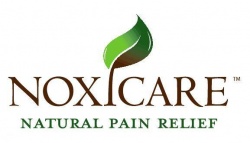 I really wanted to try Noxicare because I get a fair bit of random little pains and aches and some that aren't so random. Really I was hoping this could help with my right shoulder. Which knots easily and causes so much pain that it even makes it difficult to use my right hand at times. It's pretty awful I have to admit.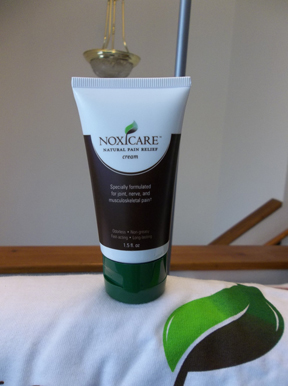 I received not only a 1.5 fl oz. bottle of the cream, but also a shirt. Yay! I love random shirts to wear to bed in the summer! So that was pretty well appreciated to be sure.
The ingredients are said to include Turmeric, Willow Bark, Ginger, Holy Basil, Rosemary Extract, Alpha Lipoic Acids, and Boswellia Extract. (My spell check is going crazy over Lipoic and Boswellia :P)
Then again since this is a sampler type size, I'm not fully surprised not everything is on here.
On the front it says it's specially formulated for joint, nerve and musculoskeletal pain.
That means it'll be perfect for my shoulder, as I'm pretty sure the knots there cause a nerve pinching that spreads down my arm. I took a picture of my shoulder, but didn't think it was worth showing. It's a shoulder. Woo. What was I thinking?
I've used the Noxicare now not only on my shoulder, but on my hands too when they ache. As well as my knees and anything else that starts to ache with how the weather has been pulling me around lately. Hot, cold, rain, hail, hot again! I'm surprised we haven't gotten snow right now (oh gods please keep the snow away!).
The verdict?
It doesn't smell, which is claims to be scent free, that mystifies me considering it has ginger in it… but doesn't smell?
Anyway, I grab this now whenever I am getting my random aches and pains, and I feel that it helps. I'm no longer grabbing for tylenol when it gets to the point where I just can't take the achies and need something. Instead I grab for the Noxicare. This is a product I'll be using for sure!
I received one or more of the products mentioned above for free using Tomoson.com. Regardless, I only recommend products or services I use personally and believe will be good for my readers.