Did you know??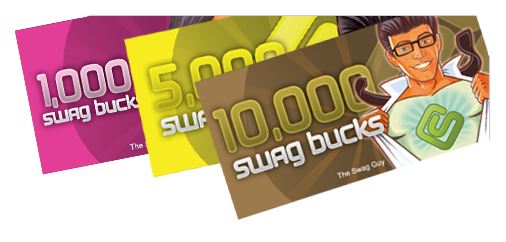 That means higher odds of winning the BIG Swag Bucks denominations! Simply search naturally, and with a little luck, you'll be winning large bills starting at 20 Swag Bucks and up!
Have you joined Swagbucks yet? No??
Well now's the time! Swagbucks.com is a great way to earn FREE stuff! Swagbucks.com is an online search site dedicated to helping you earn digital dollars called "Swag Bucks", which can be redeemed for exclusive Swagbucks.com merchandise. Things like PayPal and Amazon gift cards, toys, clothes, collectibles, games, electronics and of course LOTS more! It's part of why I absolutely LOVE them!
Swagbucks.com is a 100% free, no strings attached, free prizes, no shipping charges, no membership fee's and no credit card required. Swagbucks.com has already rewarded over a million users with Amazon.com gift cards, and all kinds of quality products. For me? Well I enter giveaways and get myself Amazon.com gift cards. I mean, why not? I shop at Amazon a ton and the free gift-cards really do help!
How to earn Swagbucks: 
Searching the Web – install the SB toolbar to make searching easier
Watch Videos
Trusted Surveys
Inviting Your Friends to Join
Shopping in our Shop & Earn Mall
Completing Special Offers
Voting in the Daily Polls
Finding Swag Codes
Sending In Prize Photos and Videos
Trading In Cell Phones And Video Games
Redeeming yor Swagbucks:
You are able to redeem your Swagbucks for things like PayPal Cash, Amazon gift cards, toys, clothes, collectibles, games, electronics and more!
Click to the Swag Store, the prize categories are listed and of course in each category you will see the Swag Price of each prize. Once you have enough Swag Bucks to redeem the prize you want, you just select your prize and confirm your personal info (email address, shipping address etc.) Then a confirmation email will be sent to your email. It really is that super easy.
It takes 450 SB to earn a $5 Amazon gift card! I've earned so many of these and they've helped to pay for Christmas and Birthday presents since I joined Swagbucks almost 3 years ago now!
Right now I'm sitting on over 800 swagbucks. Once I hit the 900 mark I will be cashing in for two $5 Amazon gift cards.
What's better than getting FREE things for doing searches you already do?
Go HERE to sign-up! Have fun!