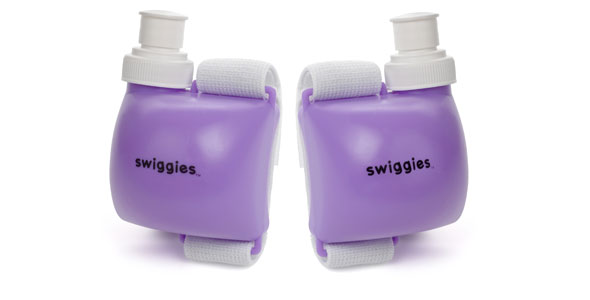 Introducing Swiggies!
What are Swiggies exactly?
Swiggies are awesome reusable water bottles that attach to your wrist! They leave you hands free to do what you want to do outside but have water at the ready for those hot summer days instead of having to carry a bottle around.
The adult size of Swiggies carry a total of 11oz and the child size carries 8oz total. That's divide by two of course. So 5.5 per Swiggies adult and 4 per Swiggies child size. Swiggies come in a variety of colors, more colors are available for children than adults. On top of that, you can even get Swiggies personalized with your logo (or your company log0) which can make them great for events!
We received the yellow Swiggies and just seeing the product website before they arrived I knew exactly WHICH of my children I wanted to have try these.
None other than…
Ishi!!
It's hard to get Var to want to drink water, he's the 'go-go-go-go-GO!' type, and that doesn't work with cups of water. Or things in his hand, that can be easily spilled. FAR too many carpet accidents have happened that way. I don't mind water on the carpet, but yeah… I try and avoid wet carpet.
After filling the Swiggies up with cold water, you have to be very careful to close the lid carefully and tightly. Once that's done you will have no leaks. From there I put the Swiggies in the fridge to further cool the water.
Var wears these around the house, out and about, while playing in the yard, and sometimes even wears one to bed (I could never do it, I'd be driven nuts!) so he has water nearby. Finally a way to keep water near him that he actually likes to use!  He also really seems to just enjoy getting to use them in general and they fit him rather perfectly.
On top of it all? I can know how much water he is having a day by how many times the Swiggies have been filled up and drank fully. Which is a relief, since like his dad Var tends to resist water drinking a bit.
I received this product through Karma Media in exchange for my honest review. With that, Swiggies is allowing all of us review bloggers to give away a set of Swiggies! So use the linky below to enter other giveaways for more chances to win!