Oransi allowed me to try this cute little (really little actually, 2″ x 4″!) Ionic Fridge Air Purifier for my review!~! For that I want to give them my thanks! The unit takes up really no space at all, runs off of two AA batteries (I use rechargeable's!), makes absolutely no noise, and spares me from having to have a box of baking soda in the fridge that may or may not take away funky smells.
Look at how tiny it is! Not even the size of my hand, awwww. It sort of reminded me of Eve from Wall-E to be honest. 😛
Let me tell you, I was surprised something this little could work as well as it does! This little gadget removes bacteria and odors while helping fruits and veggies stay fresher longer, which means I'm not throwing out veggies that have gone wilted and gross before I can fully use them. Which is an annoyance of mine, veggies never seem to last as long as I wish they would before they're wilted and a bit… Blech.
The unit has required absolutely no upkeep since I got it a few weeks ago. I had to give time to let it work its magic in the fridge after all!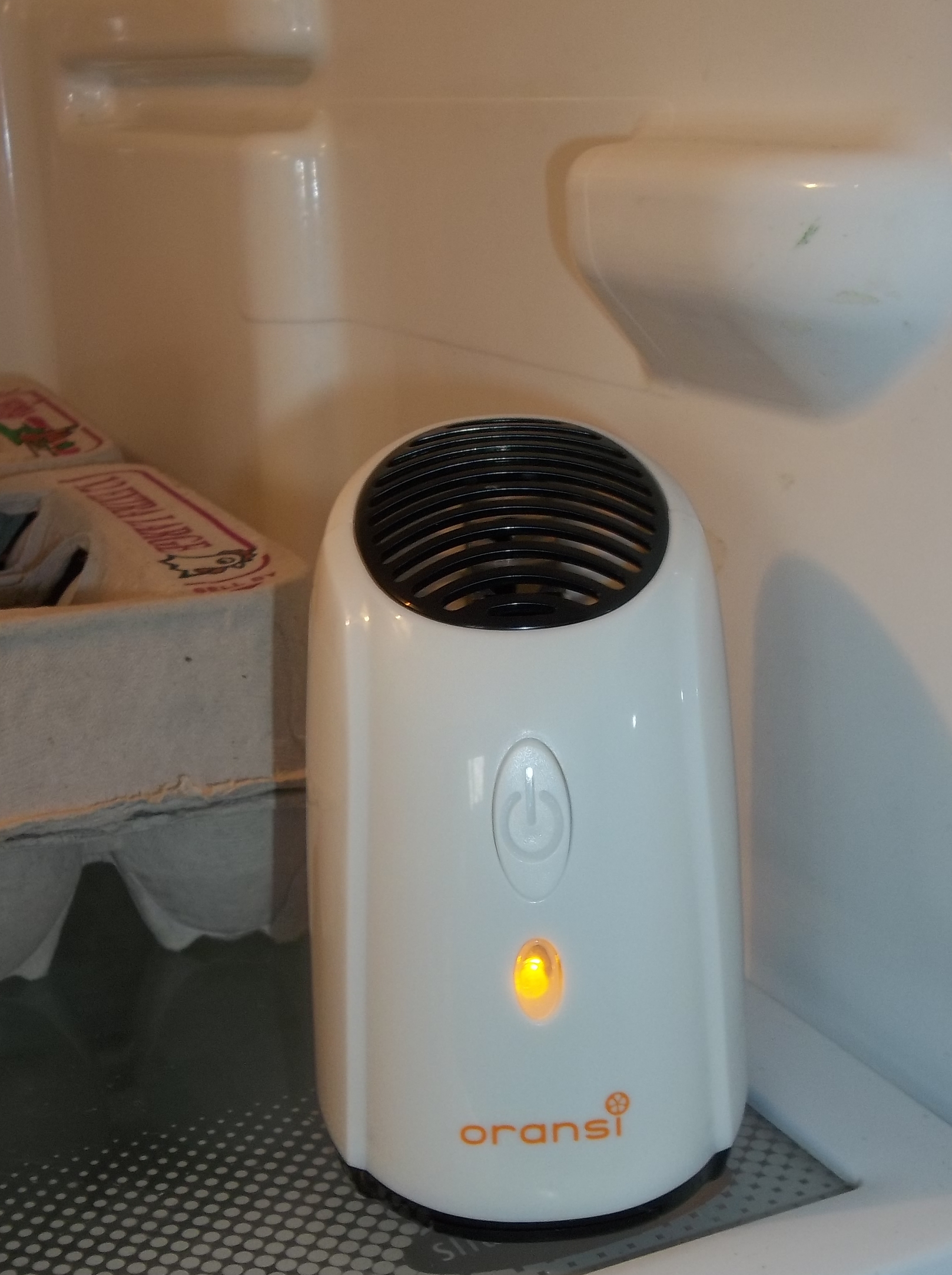 Once the batteries are in and the unit it put on, you place it in your fridge and walk away. From there the purifier does its magic. Regular batteries are said to last up to three months on average. I'm not sure how long rechargeable last because mine are still going strong, but it's been less than a month. When the light it on like this everything is all good, once the batteries start to run low the light will flash, and once they're dead the unit will no longer have on a light.
My fridge hasn't smelled awful since I got this.  Not only that but bagged salads last longer than they have ever before in my fridge, which means I don't have to stress trying to eat the entire bag in a day because I swear before those things were always gross the next morning.
It has also  helped in keeping strawberries from getting squishy too long and other vegetables as well, which means if I get too busy to cook veggies 'right away' I don't stress the possibility of them going off if I need a little longer to use them. I hate wasting food.
For the giveaway Oransi is going to provide the winner with their very own fridge air purifier. MSRP is $29, and the giveaway is valid to those 18+ in the US only with no PO Boxes as the package will be sent UPS ground.
Want to win?
GREAT!
Just enter using the Rafflecopter below!
Ganbatte Ne! <3