Before hearing about this product, I had no idea that such a thing could even exist! I mean, Olive oil, gotcha. Canola… okay, Sesame, Peanut, and Vegetable. Those were the oils I was aware of.
But Coconut oil? How could you make that, and what on earth could it even be decent in?!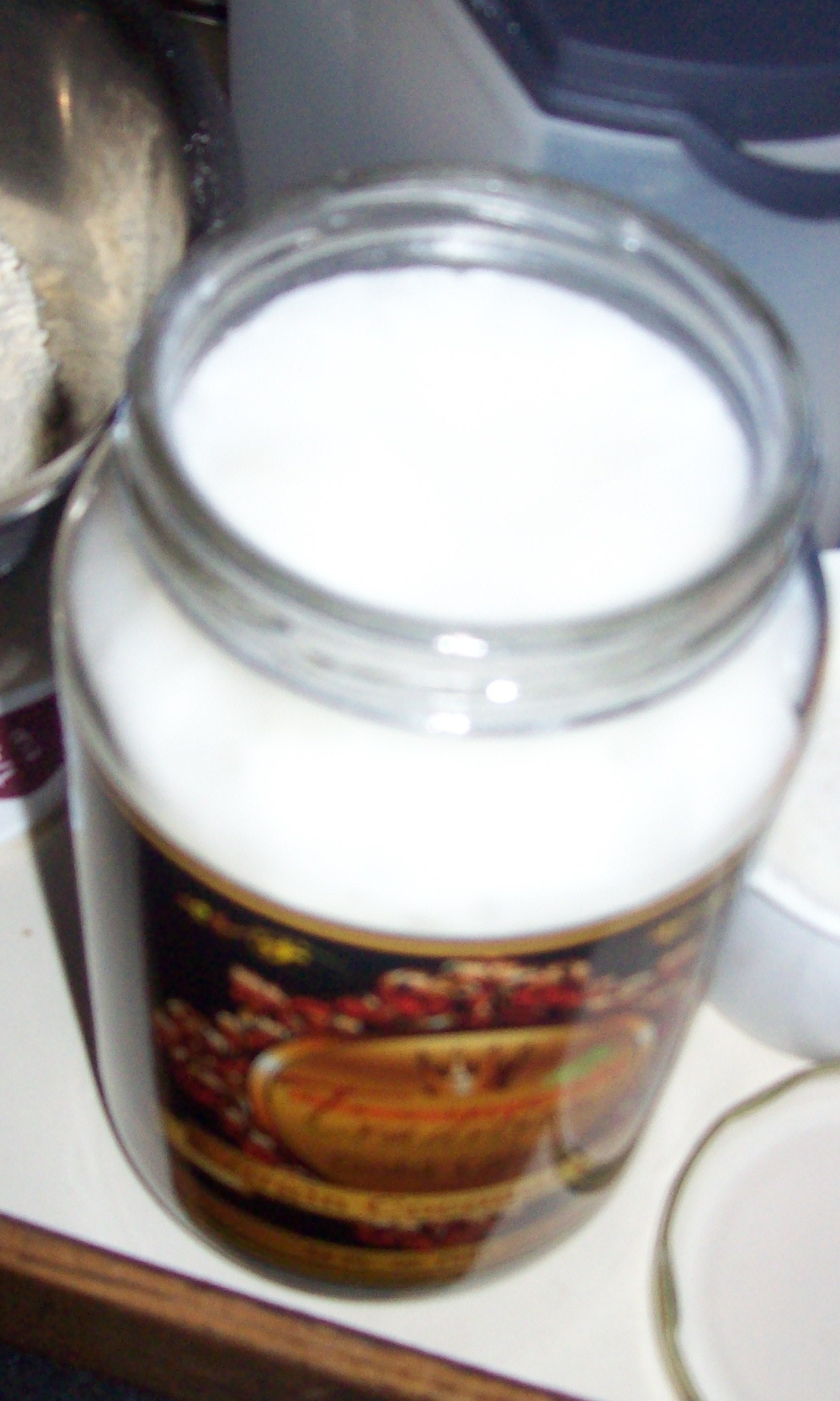 What a horrible picture, but I was trying to show the label, and the product at the same time. It's solid, like Crisco solid, actually maybe a bit thicker.
It smells amazing, like opening a fresh package of shredded coconut. So what.. COULD I use this for?
For starters, I attempted to use it in pancakes. Because the recipe calls for oil, well… okay. Why not give it a try? The recipe tends to probably assume that one is using an oil that is more liquid. Alright, so let's have a go at making this oil a liquid. Measuring it out was interesting, it was so thick that I worried there was no way this was actually going to produce decent results.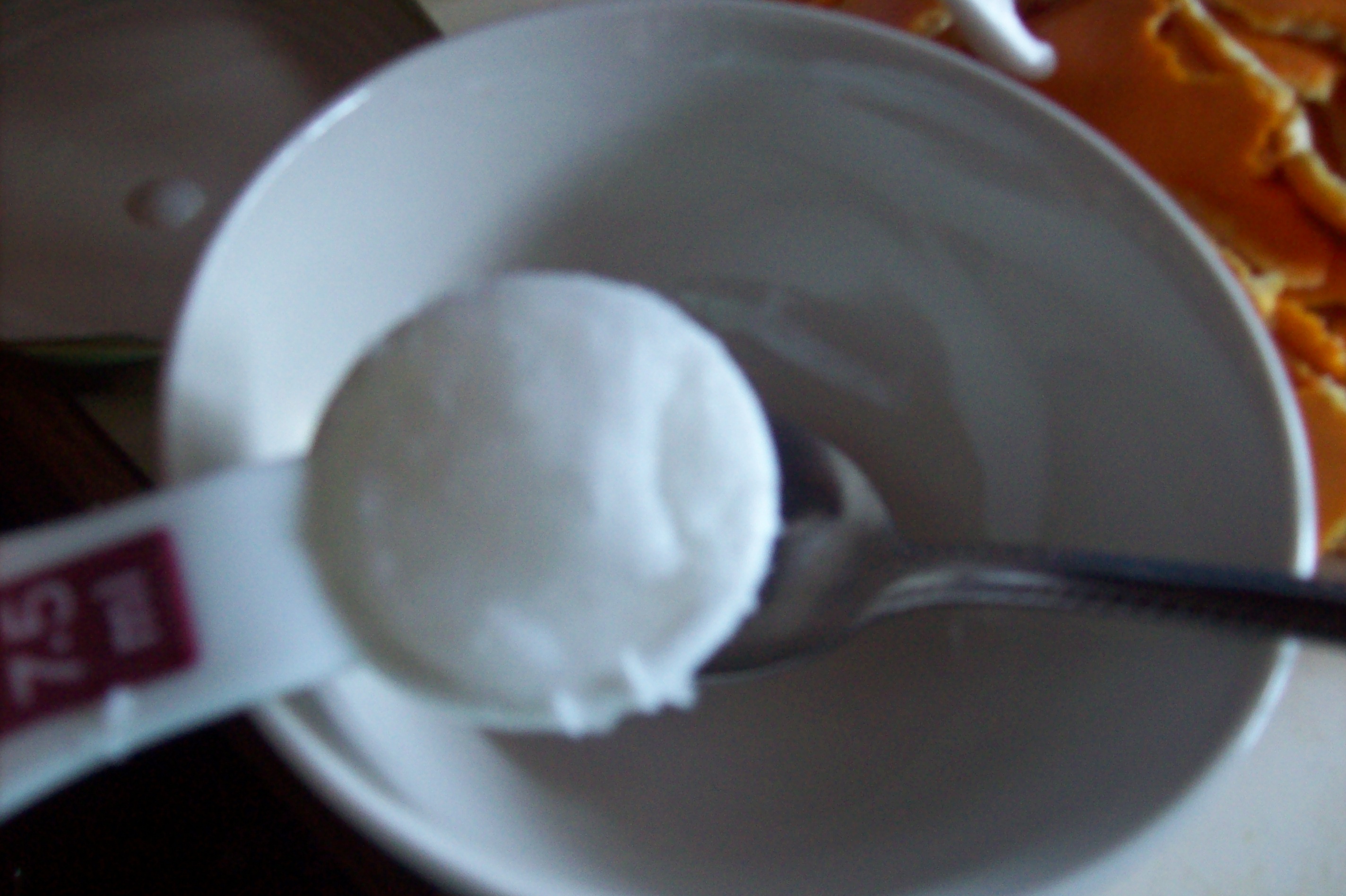 So I nuked it, slowly really. Because I didn't want to boil it, just melt it. It was hard to really see it after that. It was pretty much clear like water. It still smelled amazing. I waited a little for the oil to cool down before I put it in the pancake batter.
I made blue pancakes using one GF recipe, and… messed up. Then I decided to use a second GF recipe, made it right, and did them pink.
With mini chocolate chips. Because who doesn't love chocolate chip pancakes. (Don't answer that, I'm sure there are many who don't!)
 I love the way the batter here reminds me of the inside of a watermelon. Look! Watermelon pancakes! That don't taste like Watermelon. Which tastes like nothing but graininess to me. Watermelon and I aren't friends. Though the kids like it, so I buy it.
That's entirely not even the point of this post, what am I saying?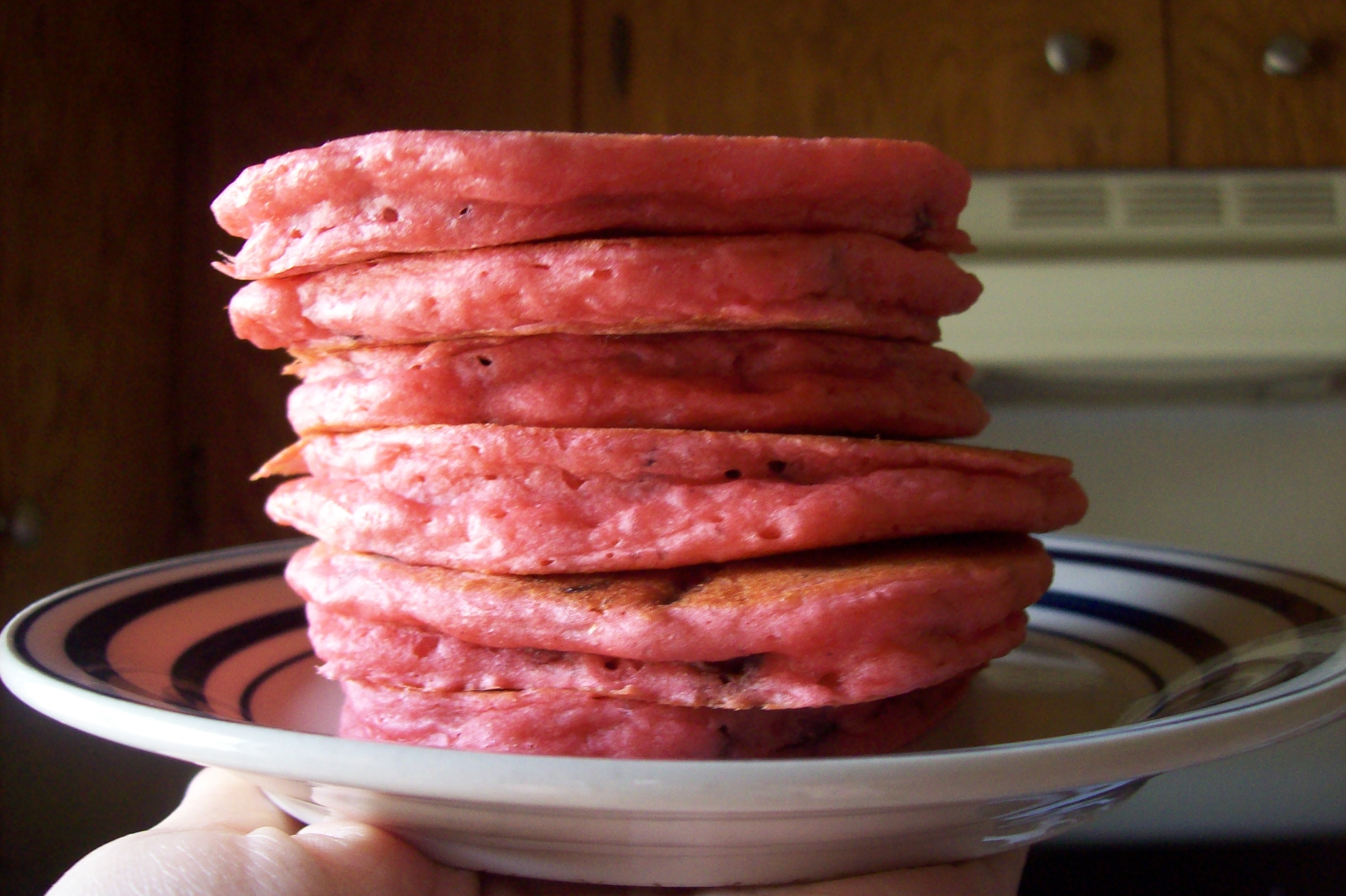 Well, the batter looked normal. I don't know why I was expecting it not to. Oil is… oil? I have no idea. My brain can be strange and lead me to thing wild things sometimes I guess. Like 'this will never work'. These smelled amazing, a light coconut scent and taste was added to the pancakes.
It wasn't overpowering, it was only noticeable to me because I knew it was in there. The kids never mentioned coconut at all. Awesome! Because some don't love coconut the way I do.
After I washed the batter bowl by hand, I noticed that my hands were super soft. For days! I know it's not my dish soap, because it never happened before. Plus, I had a pleasant coconut smell. Making me the strange woman who sniffed her hands when she caught a waft of the scent. Hmmm.. coconutty me…
Then I moved, and this got packed away. But afterwards I've used it on GF Chocolate chip cookies (that I added sprinkles to in order to make them more festive!), and even GF cupcakes. Because you know, Lisi turned 6, on a school day. So she wanted cupcakes for everyone.
She's also the most serious about eating as gluten free as possible of all of us. This kid has determination for sure!

 She even helped me decorate them. They're so cute. <3 okay, part of that is just to show off Lisi's sprinkling skills.
They were delicious, you couldn't even taste the coconut oil! AND no one in her class made a fuss about their first times trying gluten free cupcakes! Score! Of course the parent volunteer and her teacher were very curious about trying GF cupcakes.
They liked them, and I was told all of the kids did too.
She was just happy to be able to share a special snack with her friends, even though I told her she didn't have to stick to GF if she didn't want to. Since she has no real medical need to do so. But the kid is dedicated.
Alright! *ahem* wow I go on tangents like no one's business! Hah!
I love the coconut oil. I love the smell, the texture, and how my hands felt afterward. I want to try some on Sisi's skin to see if it helps with the skin condition she has (but that's a post for another time), as well as try it in my hair.. which suffers a bit because I do so much bleaching and dying to it (even though I haven't since September to give it some rest…)
There are all sorts of wonderful uses for coconut oil! I got this massive 32oz jar to use and I still have so much! So Tropical Traditions, being the awesomesauce company they are, is allowing me to giveaway a free jar to someone else! I got to try it for free, just for doing this review, and now I get to give some away!
Here is what they say about their Virgin Coconut Oil! As well as the giveaway!
Ganbatte ne minna-san!
Win 1 quart of  Gold Label

Virgin Coconut Oil!
Tropical Traditions is America's source for coconut oil.
Their Gold Label Virgin Coconut Oil is hand crafted in small batches by
family producers, and it is the highest quality coconut oil they offer. You
can read more about how virgin coconut oil is different from other coconut
oils on their
website:

What is Virgin Coconut Oil? You can also watch the video they produced
about Gold Label Virgin Coconut Oil:
Tropical Traditions also carries
other varieties of affordable high quality coconut oil. Visit their
website to check on current sales, to learn about the many uses of coconut oil, and to read about all the
advantages of buying coconut oil online.
Since the FDA does not want us to discuss the health benefits of coconut oil
on a page where it is being sold or given away, here is the best website to
read about the health
benefits of coconut oil.