Today I get to review, and take part in a giveaway for Eco Orbies! These are amazing little water beads that start out teeny, and soak up water to hydrate plants, can be used with essential oils to make a room smell nice, and even be used with submersible lights if you wanted!
Or… you can do what I did and just enjoy playing with them over and over again while you decide what you want to ultimately do with them your first time.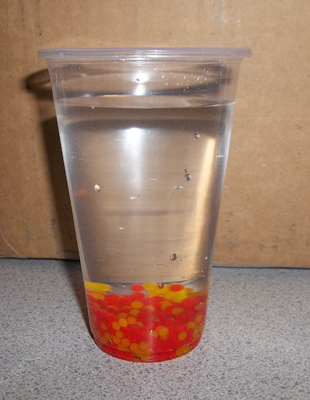 This is what the beads look like when I originally put them in water, I then realized "I didn't use enough water! AHH!" and that was an hour later. That was when they looked like this. It was still interesting to experiment, even if I messed up royally. Go me!
Woah!! It's a good idea I walked into the kitchen and noticed this! They wouldn't have been able to fully soak up enough water in that cup with only a cup of water! Beware, they NEED two cups and you DO want to put them in a bowl. Yes, the instructions clearly state to put them in a bowl with two cups of water. Guess who was distracted when she did this originally?
Otherwise you end up making them suffer. Don't they look like they're suffering in there? "Darn you Kisa! you messed up you goober!"
Okay, in my case it was a tupperware… gladware. Whatever. It's one of these okay? Don't look at me in that tone! 😉 You know what I'm saying. Right? Anyway. So I added them here, added another cup of water, and went to bed.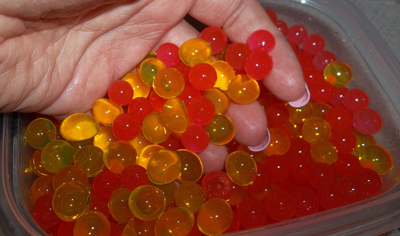 This is what I came to in the morning. Look at how big they are! I absolutely LOVE touching these things, and I am SO thankful and glad they're non-toxic. Because wouldn't you just know, Puuny decided they looked interesting.. and I found one chewed up on the floor of the kitchen too! Eeekk! I made sure that all the pieces were there.. I think he just thought it was chewy, but lacked flavor and didn't eat it. This almost a week ago, and he seems just fine. Still, I was worried!
Ultimately, I left these on the counter for days, played with them, added water again as they started to suck up and dry (it got pretty hot in my kitchen I'll be honest! Comes with cooking!). After that they're now sitting downstairs in my room with a little bit of my peppermint essential oil in them. I don't have to buy a room spray freshener for my room now, because these with the Peppermint EO help my room smell amazing! Which is good, because it's right next to the laundry room. With the cat box. Which smells like… cat sand.
Thought I was gonna say cat ick? *shudder* No.. it just smells like cat sand in there and I tend to notice. But these help my room smell peacefully pepperminty.
I kinda can't wait for them to just dry out though. So I can rehydrate them and play with them some more. >.>
This was a tiny little packet and look what they did! I wish I had flowers or a plant to put in them and get to experience the plant watering properties myself, but right now.. I don't have anything to put in them. So smelly happiness it is, and… they're bouncy too. Try not to have too much fun bouncing them all over the counter top.
Not that I did that…
Okay, yes I did!
Eco-Orbies come in Pink, Clear, Coral, Bue, Green, Purple, Orange, Yellow and Black! As you can see  got the… I believe Coral and Yellow. Redish and Yellow anyway!
You can check out their website at http://eco-orbies.com/ and they're even on facebook! http://www.facebook.com/EcoOrbies
Want to win your OWN Eco Orbies?! I thought so! Go ahead and enter using the rafflecopter below to be one of TEN! Yes, TEN winners of your own Eco Orbies!!
Ganbatte ne! (Good luck!)
I received Eco Orbies as part of a Karma Media campaign. All opinions are 100% mine.