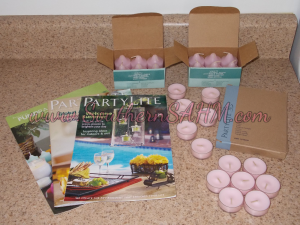 The following review was written by Caitlin Nicole over at Southern Stay-at-Home Momma.
My nose was in absolute heaven when I received some goodies from Megan, a PartyLite Consultant, to review. I could smell the candles before I even opened the box — that's my kind of candle.
As most of you hopefully know (from my blog title if you don't know me personally), we moved from Mississippi to Indiana last month. I had quite a few candles spread around our apartment — some wall decor and some other candle holders. For some of them, I got some cheapo tealight candles from Walmart. When we were packing everything for the move, I noticed that they had molded! Gross! Needless to say, I threw those candles away and washed out the candle holders. But…that left me without anything to put in my candle holders. 🙁
Megan got in touch with me and requested that I review PartyLite Candles — I was super excited to review them! The image associated with this post (the image to the top left of this post) shows what all I received to review.
I received the following:
24 Apple Blossom Tealight Candles
12 Strawberry Rhubarb Votive Candles
---
Here are some pictures of my wall decor that is now 100% complete thanks to PartyLite Candles. 🙂
And here are some of my candle holders that are now 100% complete thanks to PartyLite Candles. 🙂
---
I love, love, love these candles! Don't even get me started on their candle holders (you'll see them in a minute)! I would be a happy camper if I had one of everything from PartyLite Candles, LOL. Megan was nice enough to send me some catalogs and everything from their Summer collection is absolutely beautiful and adorable! As you can imagine, they have a plethora of candles and candle holders, but they also have a Travel Diffuser that you can take anywhere, such as your car, closet, locker, or laundry room!
I've seen about thirty things on Megan's website that I'd love to have in our home. My favorites are their Cherry Blossom items. What can I say? I'm a big fan of pink and flowers! 🙂
---
If you're a candle lover like me, you're in luck! Megan is graciously providing one lucky reader of mine with the same exact candle package that I received for this product review! Feel free to enter via the Rafflecopter below! This giveaway will run from May 21 (today) to June 4!
Disclaimer: I was not compensated for reviewing these products. Megan graciously provided me with candles from PartyLite so that I could write this review.