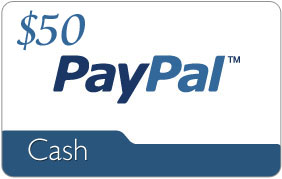 Ohayo Okasan has reached over 5,000 fans! In celebration of this I've teamed up with her and some other awesome bloggers to bring you this $50 Giveaway event!
There will be one winner of the $50 prize. You are welcome to choose between $50 via Paypal or a $50 Amazon.com Gift card for those of you without paypal! This giveaway is open World Wide, but you must be 18 years old to enter.
This giveaway is not sponsored by, or affiliated with Facebook, Paypal, Twitter, or Amazon.com. It is Sponsored by Ohayo Okasan and the following bloggers:
Life as Leels, Praises of a Wife and Mommy, Christina's Voice, Kim's Wraps, Jenny at Dapperhouse, Giveaway Promote, A Delicious Obsession, Plum Crazy About Coupons, An Ordinary Housewife, The Frugal Free Gal, Free Makeup & Beauty Samples, Oh! My Heartsie, and Wrapping to Feel Better!
This Giveaway runs from 00:01AM on Friday May 4th until 00:01AM Thursday May 10th! Don't miss out! Enter on the Rafflecopter below, and good luck!