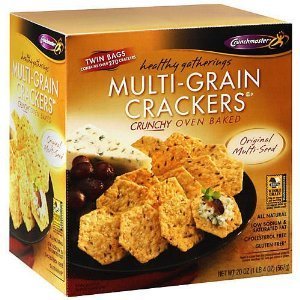 I've found it. A product I dislike so badly, that I can't help but share about it. Now that I've gone Gluten Free, I've been trying anything in a store I can find that looks even remotely decent. I didn't buy the two-bag box as shown in the photo.. but.. oh my goodness.
These crackers are terrible. They have a burnt taste too them and not even Nutella made them palatable! I really did give them more than one chance too. Eventually, I just gave up.. licked off the Nutella and tossed aside the small bowl full I'd given myself.
Sadly none of the kids like these either. Sure they've got a good crunch, and the crackers look just like the picture on the box. But the flavor was just so unforgivably deep and burny flavored you'd think it was made of burnt toast scrapings or something.
I hate throwing food away, but this is one thing I can't even think of a use for due to it's flavor. 🙁 Ah well, back to the drawing board for a good cracker.