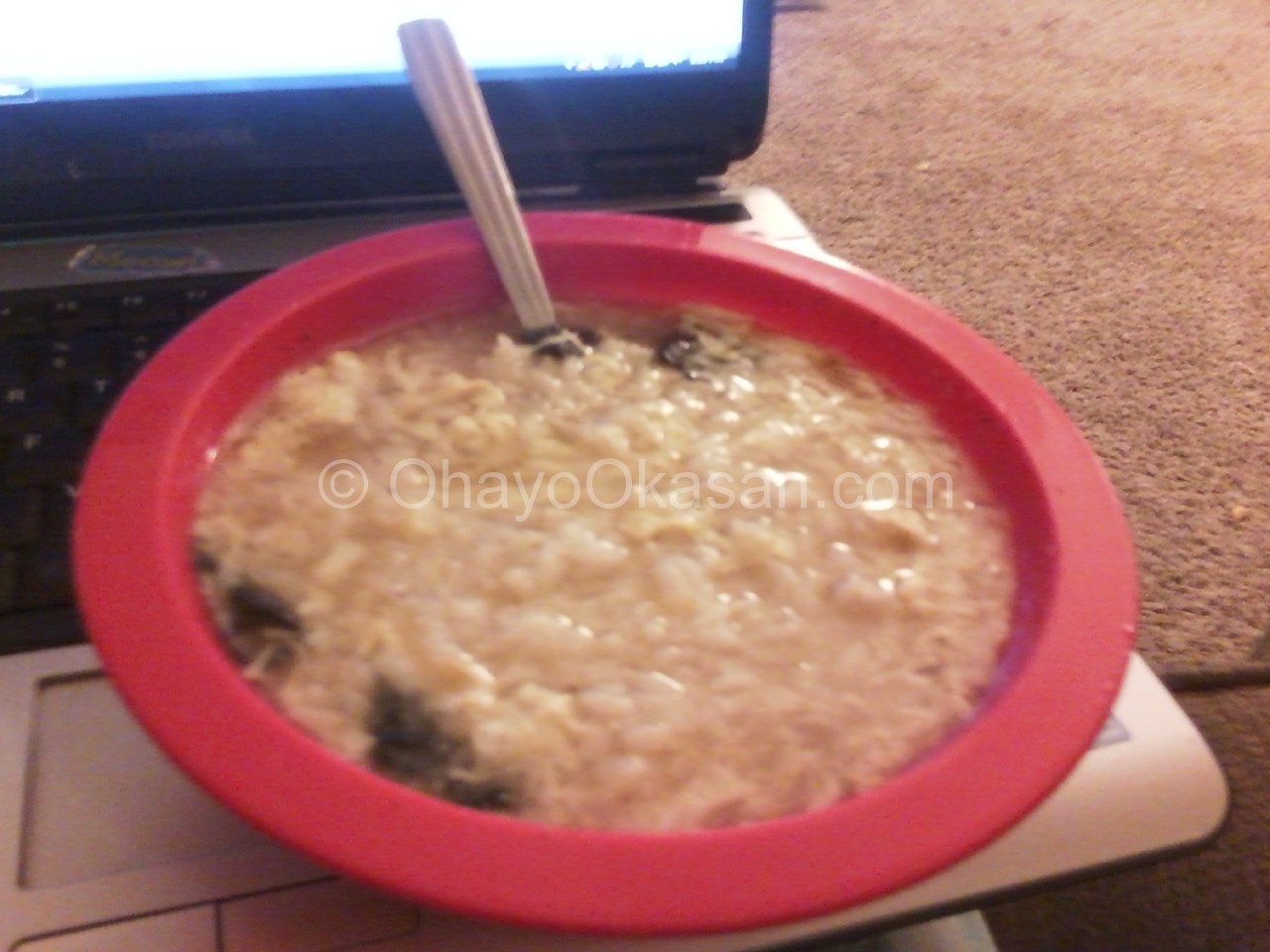 Just looking makes me hungry!
Egg Drop (or Egg Flower) soup is one of my favorite comfort soups. I always eat it at the local Chinese buffet, and even my kids love it! This is a basic recipe that I adapted from one I found on the internet. I prefer my Egg Drop served over steamed white rice, with chopped up green onions on top. Add in a few drops of low-sodium soy sauce, and pepper to my liking and it's a happy thing for me!
I have to double this recipe because we enjoy this soup so much!
Ingredients:
4 cups chicken broth or stock – I use low sodium,
2 eggs, lightly beaten
a dash (maybe 1/4 teaspoon?) onion powder
a dash (maybe 1/4 teaspoon?)  garlic powder
a dash (less than of onion and garlic powders, unless you want more) of ground ginger
1/8 to 1/4 tsp chicken bouillon powder for extra flavor (optional!)
2 tablespoons corn starch mixed in 1/3 cup of cold water. (If you double, I do 3.5Tbsp in 1/2 cup of water)
Cooked vegetables of your choice (pea and carrot mix seems popular. We prefer cooked frozen spinach.)
Preparation:
In a soup pot bring the 4 cups of chicken broth seasoned with onion powder, garlic powder, and ground ginger to a boil. Add in the corn starch and water mixture. Boil for one minute, then reduce heat to a simmer. You can also use Potato starch instead to be more sure this can be Gluten Free.
Very slowly pour in the eggs in a steady stream. To make shreds, stir the egg rapidly in a clockwise direction for one minute. To make the egg in thinner pieces, gently stir clockwise while you're slowly adding in the eggs.
I prepare frozen vegetables in the microwave, and then add them to the soup as it's simmering and thickening up upon the stove.
It's at this point you can serve how you desire. As I said I love a scoop or two of
steamed rice
in my bowl first, covering it up with the soup, adding the green onion slices on top! You can leave out the low sodium soy sauce (I use either Wal-mart store brand, or
Kikkoman
, alternatively San-J makes an excellent Gluten Free soy sauce that is low-sodium!) and the pepper if you like. But I find it adds some spice and a little kick to the soup that truly makes it a comfort thing to me, particularly on a cold day.
Notice: this post contains affiliate links to products I enjoy using for this recipe. I make a small percentage of affiliate earnings on orders placed on the link site.